Domenica de Rosa, better known as Elly Griffiths, is a globally acclaimed British crime-fiction novelist. She's most widely recognized for her Ruth Galloway and Edgar Stephens mystery novel series. Born and raised in England Griffiths diverted from being an editorial director for children's books to writing some of the most captivating crime-thriller novels of the present generation.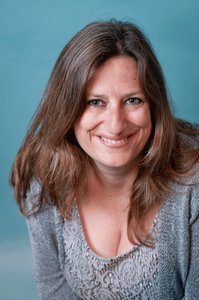 Griffiths' Ruth Galloway novels are inspired by the myths and legends surrounding the Norfolk coast and from her husband who gave up his city job to work as an archeologist. Her novels have a unique style that blends English folklore with modern day science which makes for a highly engaging read for crime-fiction enthusiasts.
Today, we take a brief look into the life and career of Elly Griffiths.
About Elly Griffiths and her early life
Elly Griffiths is a woman with a unique flair to her personality, and her life has been an interesting one. She was born on 17th August 1963 in London. As claimed by the author herself, Elly Griffiths is not only her pen-name, but also her alter-ego which she adopted right when she got into writing crime fiction novels.
Griffiths spent the first five years of her life in London, after which her family moved to Brighton, an English seaside resort town on the south coast (now part of the city of Brighton and Hove). Being around the picturesque English coast provided her with a great deal of inspiration in writing her novels and most of her mystery novels are based in and around the quaint coastal areas of England.
She went to a local state school and wrote her first book at the tender age of 11. It was a murder mystery set in the village of Rottingdean, a place where she still resides. By the time she entered secondary school, Griffiths was writing fan fiction episodes of Starsky and Hutch.
Here, Elly talks about her writing and also discusses one of her novels, "Woman In Blue".
She always had a flair for writing literature and knew from early on in her life that writing was the career she was destined for.
Upon leaving school, Elle studied English at King's College in London and started her first job in a library immediately after graduating. She then moved on to writing for a magazine and finally joined HarperCollins as a Publicity Assistant.
Elle loved working in publishing thanks to her love for literature, and quickly became the Editorial Director for children's books at the company. The job made it hard for her to devote time towards writing and it was only in 1998 when on maternity leave that she went on to publish her first novel titled "The Italian Quarter."
About the Ruth Galloway Series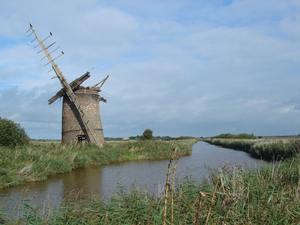 The most intriguing fact about the Ruth Galloway series is that Elle drew inspiration for the entire plot of the first novel "The Crossing Places" from her husband who quit his day job to become an archaeologist. The Ruth Galloway series had its inception following an interesting incident which occurred when Elle, along with her family, was on holiday in Norfolk.
As they were walking along the Titchwell Marsh, her husband narrated a story of a prehistoric man who considered the marsh to be sacred. Folklore had it that the marsh was a 'bridge to the afterlife,' it was neither land nor sea, neither life nor death. Somehow, this story inspired Elle to begin the Ruth Galloway series, the first novel of which was released in 2009.
The Ruth Galloway Series is undoubtedly one of the finest works of crime-fiction in recent times thanks to a touch of eerie mysticism blended carefully into an incredibly captivating plot. The protagonist of the novels, Ruth Galloway, is a forensic archaeologist who teaches at the University of North Norfolk.
She resides in a remote seaside cottage near King's Lynn in Norfolk. She is called upon by the DCI, Harry Nelson when the bones of a child are discovered near a prehistoric site on the north Norfolk salt marshes.
Ruth's makes use of her adept intuition and expertise in the field to investigate the crime but finds herself in danger from a vicious murderer just as she gets close to uncovering the truth.
The Ruth Galloway series has exceptionally well-constructed plots combined with beautifully detailed imagery depicting the eerily beautiful English coast.
It's a refreshing read and definitely a treat for fans of crime fiction, especially those who enjoy elements of mysticism and mythology in the plot.
Edgar Stephens & Max Mephisto Series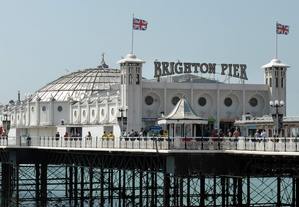 This is the newer series written by Elly Griffiths, with five police procedural novels released at the time of writing. Set during the 1950's in  Brighton, the home town of the author, it brings together DI Edgar Stephens and stage magician Max Mephisto who make for a very diverse and unlikely pair of crime fighters.
The first book in the series, The Zig-Zag Girl, investigates a murder that reminds Stephens of a magic trick that he had seen, resulting in him enlisting the help of Max, a wartime colleague and friend who served with him in a special operations army unit in World War II that incorporated the use of magic trickery against the enemy. Max is now a full-time stage musician and actor and is reluctant to leave his burgeoning career to help solve a mystery  but it turns out that the first victim is a former assistant to his act, so any reluctance is put aside.
This starts the pair on the road to solving mysteries together, a detective along with a master of trickery.
As with the Ruth Galloway novels, the author knows the locales intimately, using real street names and locations, something that always makes for a better read in my eyes.

Accolades and Accomplishments
Elle Griffiths is a phenomenal writer whose books have sold hundreds of thousands of copies worldwide. She is also the recipient of the Mary Higgins Clark Award and the prestigious CWA Dagger in the Library Award, an award dedicated to writers of crime fiction.
Apart from the awards, her work has been praised by numerous forums and personalities worldwide. A few of which include the likes of Louise Penny, The Wall Street Journal and the Associated Press.
Current Life
Griffiths currently enjoys a peaceful life near Brighton, England, where she lives along with her husband, two children, and a cat. She enjoys socializing with other like-minded people at different festivals and exhibitions. She writes two books a year, one for each of the two mystery series to her name.