Phyllis Dorothy James, also known as P.D. James was an English crime writer who rose to fame due to her infamous novel series starring police Commander Adam Dalgliesh. The fictional character is the central figure in 14 mystery novels, the first being "Cover Her Face," which was released in 1962.
P.D. James also released other fiction and non-fiction stories that earned her global recognition and acclaim from both fans and critics. She was awarded the title of Baroness James of Holland Park among many others that she earned in her celebrated career.
She was born on 3 August 1920, and passed away nine decades later on 27 November 2014, leaving a void in the hearts of her fans and the literary world. Let's take a look at the life of this renowned author in more details.
About P.D. James and her early life
The author was born in Oxford on 3 August 1922 to a Tax Inspector father, Sidney James. She received education at the British School in Ludlow, and later at Cambridge High School for Girls. Mainly due to a lack of money young Phyllis had to quit school at the age of 16 and start working. Sadly her mother suffered from mental illness and was eventually consigned to a mental institution.
Her work career started in a tax office, which lasted for three years. Later she found a job as a role of assistant stage manager for a theater group. In 1941, she married Ernest Connor Bantry White, who was an Army doctor by profession. Later they had two daughters, Jane and Clare.
Unfortunately, after returning home from the Second World War, her husband struggled with mental illness, in particular schizophrenia. With her husband in a psychiatric institution much of the time, James had no choice but to provide for the whole family. James later took up hospital administration and worked for a hospital board in London from 1949 to 1968.
Her husband passed away in 1964, leaving her the only one to take care of the daughters. She took up writing as a hobby in the mid-1950s but was only able to release her first novel in 1962. That first novel, Cover Her Face, put her in the spotlight and she went on to write many other mystery novels based on the backdrop of UK bureaucracies.
After her husband had died, she also took a position as a civil servant within the criminal section of the home office. She worked for the government till 1979, after which she finally retired to concentrate on her writing career.
About Adam Dalgliesh
Adam Dalgliesh is a fictional character who made his first appearance in the novel Cover Her Face. He also appears in two Cordelia Gray novels that James wrote later in her career. In the first novel, we get to see Dalgliesh in the role of a Detective Chief Inspector but gets promoted later on.
Check Out The Dalgliesh Books Here From Amazon
Adam Dalgliesh is a prime example of "the gentleman detective" image that was a rage back then in the British detective fiction category.
The Detective Chief Inspector eventually acquires the rank of Commander at New Scotland Yard, London, which is a prestigious position. Dalgliesh is presented as an intensely private person who likes to keep to himself for the most part. 
He had several works of poetry published in his name. He lives in a flat that looks over the Thames, in the city of London. In the earlier novels, the Detective drives a Cooper Bristol and later changes to a Jaguar. As far as physical appearance is concerned, he is described as tall, dark, and handsome in some books.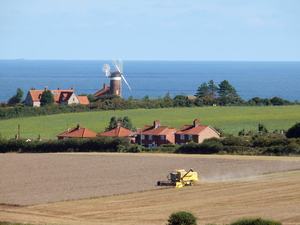 Dalgliesh's father was a rector in a Norfolk country parish, but his only family relation was Jane Dalgliesh, his aunt. After his aunt dies, Dalgliesh inherits a converted windmill that is located on the coast of Norfolk, among other things. He is also a widower, who had lost his wife during childbirth before any of the novels take place.
The Detective has been reluctant to commit to anyone else since his wife's death, but later on, has the occasional relationship with the common problems associated with police work, i.e. inconvenient interruptions of time off, cancellation of trips, dedication to his work, etc. He does eventually get it right though.
Click here for a list of the Dalgliesh books in chronological order.
The author was very religious and aspects of this show up now and then in the books, although never in a "preachy way". The references to Dalgliesh's father being a former rector are fairly common but her knowledge of religious workings were very prominent in the magnificent novel, Death In Holy Orders
. James also became quite active in helping promote Christianity in the Anglican tradition, and she was a patron of the Prayer Book Society.
P.D. James – Awards and Accolades
P.D. James was a world renowned author who received countless accolades throughout her career. The first one came in 1971 when she became a runner-up for the best novel award given by Mystery Writers of America, for Shroud for a Nightingale. In 1972, she received the Macallan Silver Dagger for fiction by Crime Writers Association for the same book.
In 1973, she again became a runner-up for the best novel award for An Unsuitable Job for a Woman. She received many awards thereafter, with the latest being 2010 Nick Clarke Award while working as a guest editor of Today radio program in which she interviewed the director-general of the BBC, Mark Thomson.
In the 1980s, many of James' mystery novels were adapted for TV and played on the ITV network in the UK. These productions were also consequently broadcast in other countries, especially in the USA. The TV show adaptation starred Roy Marsden who played the role of Adam Dalgliesh.
Her novel, The Children of Men, published in 1992 got a feature film by the (almost) same title which was released in 2006. Children of Men (the movie) starred Clive Owen, Michael Caine, and Julianne Moore; it was directed by Alfonso Cuaron. Even though the book was heavily adapted from the novel and was, in many parts, considerably different, James was still very pleased with the outcome.
Honorary Awards
In 1983, James received the Order Of The British Empire (OBE), in recognition of her services to literature. In 1991, James was further honored by her country with the title of Baroness James of Holland Park, after which she sat in the House of Lords as a member of the Conservative party.  In 2008, James became an inductee into the International Crime Writing Hall of Fame at the inaugural ITV3 Crime Thriller Awards.
Death
On 27 November 2014, P.D. James passed away at the age of 94, at her home in Oxford. Today, she is survived by her two daughters, five grandchildren, and numerous great-grandchildren.