Agatha Christie (full name: Agatha Mary Clarissa Christie) was a crime novelist from England, playwright, and storyteller widely known for detective novels and collections of short stories. A total of 66 novels and 14 stories revolve around the fictional characters, detective Hercule Poirot and Miss Marple.
Fans of the murder mystery and crime thriller genre are no strangers to Christie's contribution towards literature. In fact, she is considered to be among the world's most prominent writers of all time. She not only wrote novels, but also wrote The Mousetrap, which is the world's longest-running murder mystery play having opened in 1952.
She has even authored six romantic stories under the pen name Marie Westmacott and has been the recipient of many prestigious awards, which includes the title of Dame Commander of the Order of the British Empire. She passed away on 12 January 1967 at the age of 85, but the legacy lives on through her works.
Agatha Christie and her early life

The author was born on September 15, 1890 in Torquay, Devon, into a well-off upper middle-class household. Her mother, named Clara Boehmer, was an English woman, while her father, Frederick Alva Miller, was an American who went to Switzerland on the insistence of his parents to further his education. He later became a stockbroker. 
The author had quite an unusual upbringing, even for those days, as her parents decided they would homeschool her. Despite the strange decision of her mother that she should not learn to read until she was eight, young Agatha taught herself to read by the age of five. It is said that she got her creativity from the children's storybooks she read as a child. Some say that the author even played with her imaginary friends, stuffed animals, and began writing poems as a child. Christie stated that she had a very happy childhood, being surrounded by independent women.
Their life was good, until her father passed away on November 1901, aged only 55.
By the age of 18, Agatha had begun writing short stories, but in 1910 her mother's poor health led to them moving to the warmer climate of Cairo, where they spent a few months.
In 1912, Agatha Christie met a qualified aviator named Archie Christie, who had applied to be a part of Royal Flying Corps. Their love affair quickly transpired to something more serious, and the couple got married on Christmas Eve 2014 while Archie was home on leave from the horrors of World War 1 in mainland Europe. Things settled down for Agatha in 1918 when her husband was posted to the War Office in London until the war ended.
Early writing career
Christie had a liking for detective novels since her younger days and enjoyed reading Sir Arthur Conan Doyle's Sherlock Holmes series and Wilkie Collins' The Moonstone as well as The Woman in White. She wrote her first detective novel in 1919, titled The Mysterious Affair at Styles. It was in this novel she introduced the famous detective, Hercule Poirot.
Christie's inspiration for her most famous character came from Belgian war refugees who were living in Torquay. Despite having a good story, her debut novel was rejected by several publishing companies. Eventually the Bodley Head publishing company decided to give her the "big break," provided she changed the plot's ending.
The Secret Adversary (1922) was Christie's second novel, in which we read about a fresh detective couple, Tommy, and Tuppence. She didn't make much money from it. The third novel, titled Murder on the Links (1923), again featured Hercule Poirot. Soon after, she wrote a couple of short stories that were commissioned by The Sketch magazine.
Even though Christie was yet to find her place in the literary world, she enjoyed the good life touring the world with her husband.
About the Hercule Poirot and Miss Marple novels
The author's debut book, The Mysterious Affair at Styles, introduced Hercule Poirot, an ex-Belgian police officer distinguished by his odd -shaped head and a large curly mustache. The detective became a steady character who appeared in 34 novels and 54 short stories.
Miss Marple, on the other hand, was introduced in The Thirteen Problems, a book of short stories based on the author's grandmother and her friends. Marple appeared in a total 20 short storybooks and 12 novels. Even though this character was strikingly different from Hercule Poirot, she bore some resemblance as well.
Check out the Poirot books here.
The primary factor of distinction can be attributed to the fact that Hercule Poirot was portrayed as a flat character, whereas Miss Marple undergoes a change from an overly curious young lady to someone mature that cares about her village. Another significant difference is Poirot's affiliation with the police that gives him access to evidence and backup.
Miss Marple, on the other hand, can only count on the goodwill of people to come in aid of her investigation. She has no ties to the police and has to rely on the patronage of her influential friends. She also heavily relies on gossips, rumors, and stray events that seem to be connected to the original mystery.
Check out the Miss Marple books here
As a consequence, the style of both of the detective's investigations and how the plots unfold in the stories are different. Their characteristics are also in contrast, which is evident from the fact that Hercule Poirot is highly confident and often praises himself and his ability to solve crimes. Jane Marple, on the other hand, is somewhat timid and modest.
Even though both the characters might be different in many ways, they are also somewhat similar. For instance, both characters like to live a solitary life and neither of them are married. In one of the stories, Poirot admits that he once loved an English girl but their affair never lead to anything.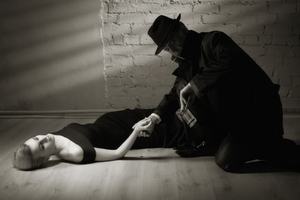 They appeared in many stories and novels, but Curtain and Sleeping Murder were two unique ones that she wrote while the Second World War was raging on. These novels were intended to be the final cases of the two detectives, Hercule Poirot and Miss Marple respectively. The author sealed these books in a bank vault and they were released 30 years later.
Agatha Christie finally published these two novels when the movie version of The Murder on The Orient Express was enjoying its success. The author realized that it might not be possible for her to write anymore and it would be only fitting that her fans got to enjoy the finale of the Miss Marple and Hercule Poirot sagas, which she had built up over the years.
See this list of the Hercule Poirot books in chronological order.
Honors and Awards
Without a shadow of the doubt, Christie is the world's bestselling mystery writer, also often hailed as "the Queen of Crime." She's considered as a master of plotting, suspense, and unforgettable characters. She had earned many accolades throughout the years, and some more after passing away.
The Guinness Book of World Records hails Agatha Christie as the bestselling novelist of all time, having roughly sold 2 billion copies. The author's estate remarks that her works rank third in terms of the most widely published books in the world. Believe it or not, Christie has sold the highest number of books, after the Bible and the works of Shakespeare.
Half of her sales are English language publications while the other half is the translations into various languages. As per data supplied by Index Translationum (UNESCO's database book of translations), she is currently the most translated author, having her works translated into more than 103 languages.
Christie's novel, "And Then There Were None", has sold over 100 million copies so far, making it the world's best-selling mystery book of all time and it also ranks as the 7th best selling book of all time. Agatha Christie was also among the very few British cultural icons were chosen to appear in the famous artwork of the "Sgt Pepper's Lonely Hearts Club Band" album cover, released by The Beatles.
The world continues to honor this author by adapting her writings into theatrical and TV shows.
Later life
Despite going through a failed marriage, speculations of a loss of mental sanity, and many other difficulties, Agatha Christie came out as a winner. She got remarried in 1932 to Sir Max Mallowan and lived happily until her death in 1976. The author's last public appearance was at the opening of the film version of "The Murder on the Orient Express", in 1974.
After an extraordinarily successful career and life, she died peacefully on 12 January 1976. She is buried in the churchyard of St Mary's, Cholsey, which is now an attraction site of sorts near Wallingford, South Oxfordshire.
Poirot On DVD
This site is generally focused on books but every now and then I make an exception and include other media where warranted. In this case, it is not only warranted but in my opinion, this should be required viewing.
I am talking about the most famous of the many adaptations of her works which is the "Agatha Christie's Poirot" series, starring David Suchet in the title role, which ranks as my favourite TV series of all time.
Here is a short clip from one of the episodes – enjoy!
There were 70 episodes in total and covered the entire collection of Poirot novels and short stories. I will post an article dedicated to this series later.